raiser edi payment charge on credit card statements may be puzzling. We understand these concerns and are here to assist.
What is raiser edi payment or raiser 6795 edi paymnt Charge on Credit Card, Debit Card, and Banking Statements?
If you're trying to figure out the meaning of RAISER, LLC EDI PAYMNT on your card statement or bank statement, you've come to the right place.
Understanding the RAISER, LLC EDI PAYMNT Charge:
The charge code RAISER, LLC EDI PAYMNT is commonly associated with Uber, a popular ride-sharing company. The name "Raiser, LLC" is one of Uber's business entities. If you see this on your bank statement, it typically indicates a transaction related to Uber services.
Please note, we are still in the process of gathering more detailed information about this charge code. If you have additional information or any insights about RAISER, LLC EDI PAYMNT, feel free to comment below and provide further links or company contact information.
Raiser LLC Contact Information:
Address: 182 Howard Street Suite 8 San Francisco, CA 94105 USA
Main OfficePhone Number: 1-415-986-2104
Fax Number: 1-877-223-8023
Uber Eats: 1-833-275-3287
Customer Support Phone Number: 1-866-576-1039
Email: Use Website Link
Website: https://www.uber.com/
Related Charge Codes
ach credit raiser edi payment
raiser 866 712 7753
raiser 6795 edi paymnt
edi payment raiser
credit raiser edi payment
raiser llc 2023
raiser edi payment 6795
uber usa 6787 edi paymnt
raiser 6795 uber
ach credit uber usa edi
ach credit raiser edi 2022
raiser 6795
Other Frequently Searched Charge Codes
There are other charge codes that users often search for, which may be of interest. These include: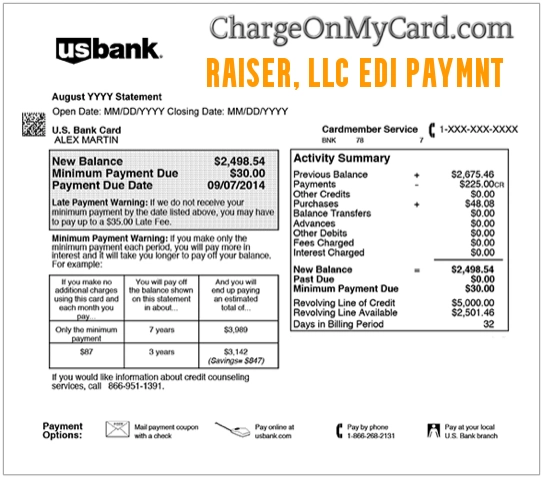 Why Rely on ChargeOnMyCard.com?
At ChargeOnMyCard.com, we believe that financial transparency is vital. We've developed a comprehensive, user-generated database to shed light on baffling charges. Each entry is meticulously verified by live personnel, ensuring accurate, trustworthy, and up-to-date information. By fostering a community of users sharing experiences and insights, we aim to make your financial statements clearer and more understandable.
Disclaimer
This website is not associated with Raiser, LLC, Uber, or any other companies mentioned here. The content on this site aims to provide information, reviews, and complaints for reference and assistance purposes only. For official information about any charges on your statement, it's recommended to contact your bank or the respective company directly.