googlrecom may appear on your banking statements. An explanation is below.
What is GOOGRECOM Charge on Credit Card, Debit Card, and Banking Statements?
The charge labeled "GOOGRECOM" or the google svcs charge is likely related to a purchase made through Google's suite of services, more specifically Google Workspace (formerly known as Google Apps). Google Workspace offers productivity and collaboration tools like Gmail, Drive, Meet, and more. The charge could be for a monthly or yearly subscription fee or for purchasing a domain.
Google Contact Information
Should you require further clarification about this charge or if you want to address any issues related to it, you may find the following information helpful:
Google Workspace
Address: 600 Amphitheater Parkway, Mountain View, California 94043 USA
Phone Number: Unfortunately, Google customer service is primarily online-based.
Website: Google Workspace
Other Charges
GMIXJUICE
NETIVOX
KINDLE SVCS
Real Dudes INC
Related Charges:
If you've come across any other charges labeled "GOOGRECOM" or similar, these are likely also associated with Google's suite of services. This can include charges like:
google svcsapps
google *svcs
GOOGLE *SVCSAPP 650-253-000
svcsapps google
google*svcs
googlre business
googlre search
POS REFUND GOOGLE *SVCSAPP
PRE-AUTH GOOGLE *SVCSAPP
PENDING GOOGLE *SVCSAPP
Visa Check Card GOOGLE *SVCSAPP
Misc. Debit GOOGLE *SVCSAPP
CHKCARD GOOGLE *SVCSAPP
Conclusion
The "GOOGRECOM" charge could be a legitimate transaction related to Google Workspace or domain services. If you're unsure about the charge, consider reaching out through the provided contact information to address your concerns.
Remember to monitor your bank and credit card statements regularly for any unfamiliar charges. Always stay proactive about understanding the nature of the charges to safeguard your financial interests. Other Charges like this may appear from other internet companies like Amazon, Paypal, Apple, NOR Tool, and Amazon Prime.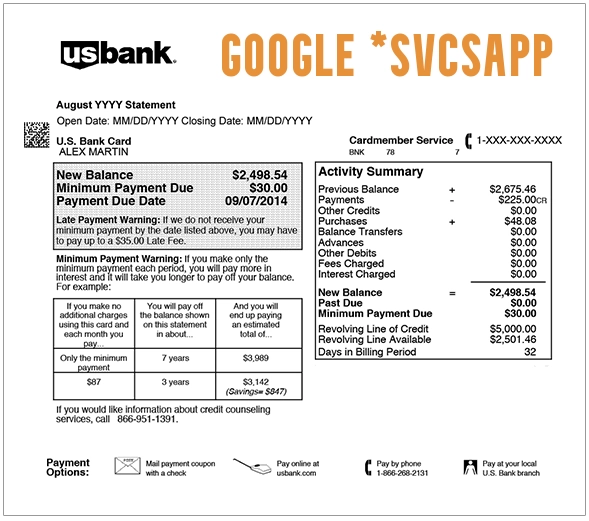 Why Rely on ChargeOnMyCard.com?
At ChargeOnMyCard.com, we believe that financial transparency is vital. We've developed a comprehensive, user-generated database to shed light on baffling charges. Each entry is meticulously verified by live personnel, ensuring accurate, trustworthy, and up-to-date information. By fostering a community of users sharing experiences and insights, we aim to make your financial statements clearer and more understandable.
Disclaimer: The information provided in this article is for informational purposes only and does not constitute financial or legal advice. For accurate and personalized assistance, it's recommended to contact Google or your financial institution directly. Charge on my Card is not associated with the listed company.