Decoding the Charge: PRIME VIDEO 888-802-3080 WA on Your Bank or Credit Card Statement
Charge Statement Code: PRIME VIDEO 888-802-3080 WA If you come across the code "PRIME VIDEO 888-802-3080 WA" on your bank or credit card statement and are unsure about its source, we're here to guide you. Kindly share any insights, comments, or related information below to assist others who may encounter the same charge.
About PRIME VIDEO 888-802-3080 WA
The code "PRIME VIDEO 888-802-3080 WA" is generally associated with Amazon Prime Video, a popular streaming service offered by Amazon. If you have recently subscribed to Amazon Prime Video or purchased content on the platform, this charge might be related to that transaction.
Website: Amazon Prime
Contact Information for Amazon Prime Video
For any inquiries concerning this charge, you can reach Amazon Prime Video at: Amazon Prime Video Address: 410 Terry Avenue North, Seattle, WA 98109-5210 USA Customer Support: 1-866-216-1072 Operating Hours: Available 24/7 Website: Amazon Prime Video
Related and Frequently Searched Charge Codes
In addition to "PRIME VIDEO 1-888-802-3080 WA", here are some other charge codes that might appear on your statement, which are related to Amazon Prime Video: – amazon digital service 888-802 – prime video tvod charge – 888-802 prime video – amzn digital 8888023080 – amazon digital charge 888-802 – prime video 888-802-3080 wa
Frequently Searched Unrelated Charge Codes
RC SHINKANSEN
Ledger Green
Glority Global
Quick Card San Diego
Luxtonicware
Israel Bible Center
Share Your Knowledge
If you have more information or insights about the "PRIME VIDEO 888-802-3080 WA" charge code, please share it in the comments below. This can include useful links and company contact details, which can help others understand and validate their own charges.
Why Rely on ChargeOnMyCard.com?
At ChargeOnMyCard.com, we believe that financial transparency is vital. We've developed a comprehensive, user-generated database to shed light on baffling charges. Each entry is meticulously verified by live personnel, ensuring accurate, trustworthy, and up-to-date information. By fostering a community of users sharing experiences and insights, we aim to make your financial statements clearer and more understandable.
Disclaimer
This website is not affiliated with Amazon Prime Video or Amazon. The content provided here is for informational purposes only and should not be viewed as official financial or legal advice. If you have specific questions about charges, it's advisable to contact Amazon Prime Video directly or speak with your bank or credit card issuer.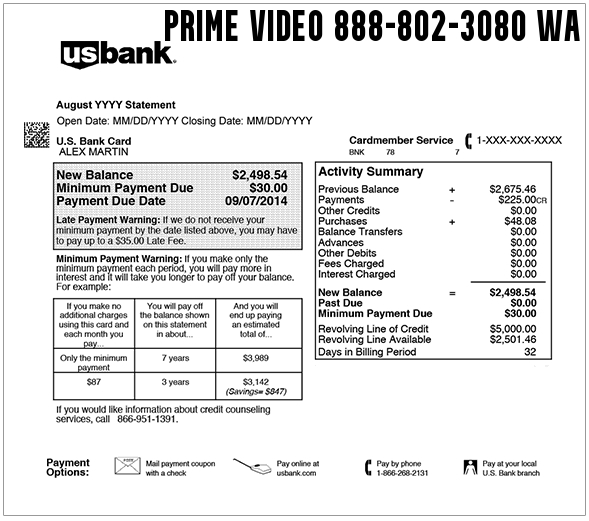 whose phone number is 888-802-3080
The phone number 888-802-3080 is associated with Amazon and Amazon Prime Video.
What is amzn digital 888-802-3080
This is from Amazon and it appears on your credit or debit card statements when you order from Prime Video by Amazon.
what is amazon digital charge?
This charge is for renting or purchasing movies through Amazon Prime Video.