QUICK CARD SAN DIEGO charge on credit card statements may be puzzling. We understand these concerns and are here to assist.
QUICK CARD SAN DIEGO Charge on Credit Card, Debit Card, and Banking Statements?
Have details or insights regarding the QUICKCARD SAN DIEGO charge on debit card? Your expertise can help others. Please share in the comments below, and provide links and company contact information. Also, if you do not recognize the charge or it is unauthorized please contact the company or your financial institution.
What is Quick Card?
You may see quick card transaction on bank statement. QuickCard eWallet serves as a cashless and secure payment solution, frequently employed by dispensaries to offer both merchants and consumers a streamlined transaction experience.
Unfamiliar with the Quick Card Charge?
If the Quick Card charge seems unfamiliar or questionable, it's crucial to take the following steps:
Immediately reach out to your bank or credit card provider.
Review past transactions for any patterns or repeat charges.
Be vigilant about monitoring your statements in the future.
Contacting QuickCard eWallet for Clarifications
If you wish to get in touch directly with QuickCard for more details or to address concerns:
Address: 3131 Camino Del Rio North Suite 1400 San Diego, CA 92108 USA
Quick Card San Diego Phone Number: 619-631-8261
Email: support@quickcard.me
Website: QuickCard.me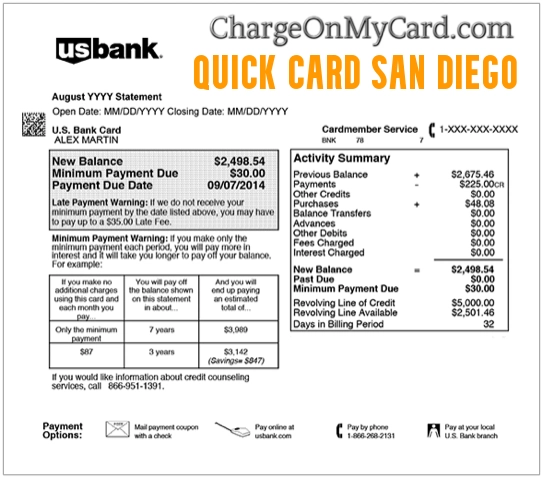 Related Charges:
quick card san diego ca 92108
quickcard san diego
quick card 3131 camino del rio
quick card 3131 camino del rio north san diego
quick card san diego caus
pos debit quick card san diego
quick card purchase san diego
Other Charges You May See On Your Bank Statement
Why Rely on ChargeOnMyCard.com?
At ChargeOnMyCard.com, we believe that financial transparency is vital. We've developed a comprehensive, user-generated database to shed light on baffling charges. Each entry is meticulously verified by live personnel, ensuring accurate, trustworthy, and up-to-date information. By fostering a community of users sharing experiences and insights, we aim to make your financial statements clearer and more understandable.
Disclaimer:
ChargeOnMyCard.com is not affiliated with Quick Card. This platform is for informational purposes, providing reviews, feedback, ratings, and user complaints. All information is confirmed by a live person. Please report any inaccuracies to the webmaster.