Israel Bible Center charge on credit card statements may be puzzling. We understand these concerns and are here to assist.
Israel Bible Center Credit Card Charge, Debit Card, and Banking Statements.
Have details or insights regarding the israel bible center charge on debit cards? Your expertise can help others. Please share in the comments below, and provide links and company contact information. Some users are reporting unknown charges. This may be from the Israel Bible Center memberships. Some are reporting an israel bible center scam, please confirm in the comments.
 Investigation into Israel Bible Center Scam Reports
We've noticed users discussing the Israel Bible Center Scam, prompting us to delve deeper.
Several users have shared experiences of encountering minor charges, such as $1 USD or $1.35 CAD, subsequent to visiting public spaces. Given the recurring nature of these reports in our comment section, there is a growing suspicion that a scam might be involved.
Israel Study Center Contact Information: (Note: This may or may not be the company involved, further information is needed) Please contact your bank to get clarification.
Address: ISRAEL BIBLE INSTITUTE Ahaliav St 8, Ramat Gan 5252261, Israel
Phone Number: Information Needed Please Comment
Email: info@israelbiblecenter.com
Website: www.israelbiblecenter.com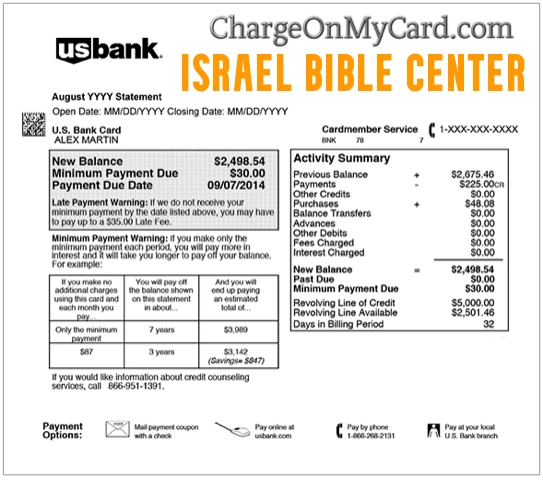 Related Charges:
Israel Bible Center Delaware
Israel Bible Center Wilmington
israel bible center wilmington de
israel bible center, wilmington, de
israel bible center wilmington us
HTTPSISRAELBI, DE Israel Bible Centre
pending – israel bible center 1770609466 us
Other Charges
KDPATH
Ledger Green
Glority Global
Quick Card San Diego
Luxtonicware
Why Rely on ChargeOnMyCard.com?
At ChargeOnMyCard.com, we believe that financial transparency is vital. We've developed a comprehensive, user-generated database to shed light on baffling charges. Each entry is meticulously verified by live personnel, ensuring accurate, trustworthy, and up-to-date information.
Disclaimer:
ChargeOnMyCard.com is not affiliated with Israel Bible Center or the charge on your card. This platform is for informational purposes, providing reviews, feedback, ratings, and user complaints. All information is confirmed by a live person. Please report any inaccuracies to the webmaster.
What is israel bible center charge
This appears to be a fraud or scam charge. The actual Israel Bible Center in Israel does not seem to be involved.