You may notice a line item labeled "1 INFINITE LOOP CA" or "1infiniteloop ca charge" on your credit card or bank statement if you've recently made a purchase using Apple Wallet. This refers to transactions processed by Apple, one of the world's leading tech companies.
Contact Details for Apple: 1 INFINITE LOOP CA Charge
Should you have any questions or concerns regarding these charges, you can reach out directly to Apple at the following address or phone numbers:
One Apple Park Way Cupertino, CA 95014 USA
Corporate Phone Number: 408-996-1010
Apple Customer Care: 800-275-2273
Website: Apple.com
Associated Charges with 1 INFINITE LOOP Charge
When dealing with Apple transactions, you may encounter other similar terms on your statement such as:
1infiniteloop charge
1INFINITELOOPCA
APPLEPAY
APPLE CASH
1 INFINITE LOOP APPLE Charge
Potential Other Charges on Your Credit Card Statement
CTM GROUP INC CHARGE ON CREDIT
VCN LA COUNTY RECORDER
AGI RENTERS
TM RESALE EVENT
About Apple
Renowned for their range of innovative products such as the iPhone, iPad, Apple TV, Apple Pay, Apple Wallet, Apple Gift Cards, Mac Computers, and iTunes, Apple is a leading company in the realm of computer hardware, software, and entertainment. Their technical support system and online help forums are designed to assist users with any issues or queries. You can also reach their toll-free customer service number at 1-800-275-2273.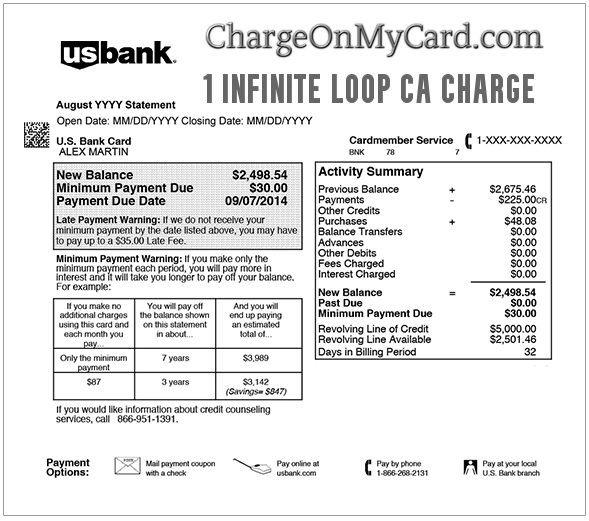 Why Rely on ChargeOnMyCard.com?
At ChargeOnMyCard.com, we believe that financial transparency is vital. We've developed a comprehensive, user-generated database to shed light on baffling charges. Each entry is meticulously verified by live personnel, ensuring accurate, trustworthy, and up-to-date information. By fostering a community of users sharing experiences and insights, we aim to make your financial statements clearer and more understandable.
Disclaimer
Please note that ChargeOnMyCard.com is not affiliated with Apple Inc. The information provided here is intended for informational purposes and is based on data verified as of July 2023. If there are any discrepancies, please report them to the site administrator.
what is 1infiniteloop ca
This is Apple's address. This frequently shows up on bank and credit card statements, when using Apple services.