EBTWM charge on EBT card statements and credit card statements may be puzzling. We understand these concerns and are here to assist.
What is the EBTWM Charge or ebtwm bentonville ar on Your Bank or Credit Card Statements?
If the term ebtwm charge on ebt card is on your AMEX, Visa, Mastercard, Discover Card, debit card, or bank statement, this is associated with a purchase made at Walmart using an Electronic Benefit Transfer (EBT) card.
More About the EBTWM Charge
The EBTWM charge represents a transaction made at Walmart utilizing an EBT Card. Here's how you can get in touch with Walmart for any questions or concerns:
Contact Information for Walmart
Company: Walmart
Address: 702 South West 8th Street, Bentonville, AR 72716, USA
EBT WM Phone Number: 1-479-273-4000
Operating Hours: Available 24/7
Website: Walmart
Frequently Searched Charge Codes Related to EBTWM
Apart from EBTWM, there are other charge codes related to Walmart that you may often come across:
– WALMART.COM CHARGE
– WAL-MART
– WM SUPERCENTER
These codes correspond to various transactions made at Walmart. If you encounter any unfamiliar charge codes on your bank statement, it's advisable to contact your bank or the company associated with the charge for clarity.
Frequently Searched Unrelated Charge Codes
Aside from EBTWM, here are some unrelated but commonly searched charge codes:
– PRIME VIDEO
– CAT SALES
– PNP Bill Payment
– HXPAYMENTS
– 1 INFINITE LOOP CA
– ACH COMN CAP APY F1
In case of any unfamiliar codes appearing on your bank statement, it's always a good practice to reach out to your bank or the respective company for further clarification.
Variations of the EBTWM EBT Charge
ebtwm bentonville ar food stamps
702 sw 8th st bentonville arus ebtwm
ebt wm
walmart.comn
Do You Have More Information About This Charge Code?
If you can provide more details or insights about this charge code, please comment below and include any useful links and company contact information. Your contribution can be very valuable to others who are trying to understand their own charges.
Disclaimer
Please note that ChargeOnMyCard.com is not affiliated with Walmart or EBT. The content on this website is intended for informational, review, feedback, ratings, and complaints purposes only. Any inaccuracies should be reported to the webmaster.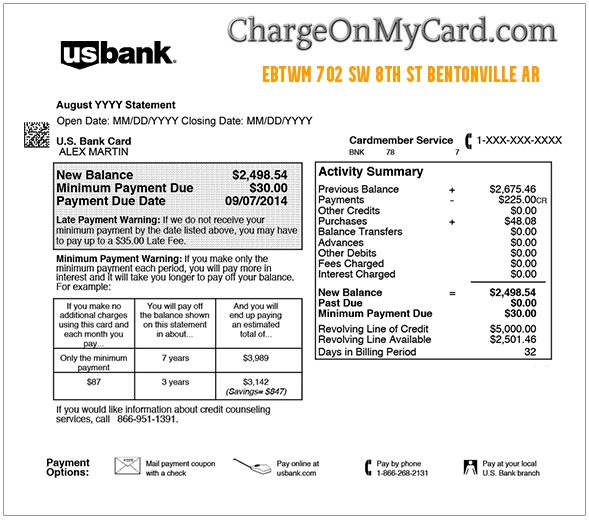 Why Rely on ChargeOnMyCard.com?
At ChargeOnMyCard.com, we believe that financial transparency is vital. We've developed a comprehensive, user-generated database to shed light on baffling charges. Each entry is meticulously verified by live personnel, ensuring accurate, trustworthy, and up-to-date information. By fostering a community of users sharing experiences and insights, we aim to make your financial statements clearer and more understandable.
Disclaimer:
ChargeOnMyCard.com is not affiliated with Walmart or EBT. This platform is for informational purposes, providing reviews, feedback, ratings, and user complaints. All information is confirmed by a live person. Please report any inaccuracies to the webmaster.