CMSVEND*CV or cmsvend may appear on your AMEX, Visa, MasterCard, Discover Card, debit Card, or banking statement. This charge is typically associated with vending machine services provided by Canteen Vending Services.
Decoding the Charge: CMSVEND*CV SAN ANT CIBOLO TX
Canteen Vending Services is a leading vending machine operating company, offering services across the US. Their vending machines are often found in office buildings, schools, and other public spaces, selling a variety of snacks, drinks, and other convenience items. If you see this charge on your statement, it's likely that you or someone who has access to your card has made a purchase from one of these vending machines.
Contact Information for Canteen Vending Services
Canteen Vending Services, part of Compass Group North America
Address: 2400 Yorkmont Road Charlotte, NC 28217 USA
Customer Support: 1-800-696-4748
Website: Canteen Vending Services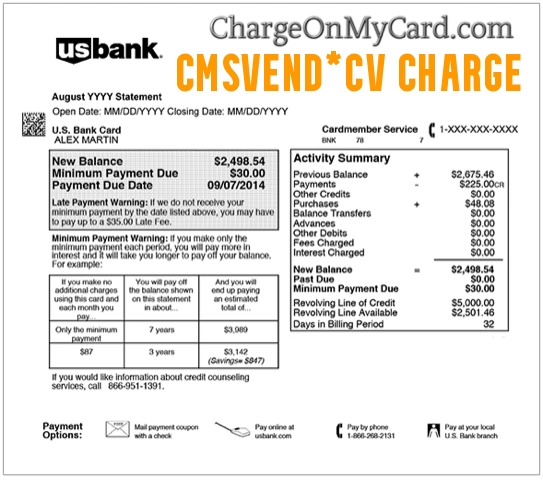 Frequently Searched Charge Codes Related to CMSVEND
In addition to CMSVEND*CV SAN ANT CIBOLO TX, here are some other charge codes you might encounter that are frequently searched:
CMSVEND*CV ATLANTA
CMSVEND*CV CHICAGO
CMSVEND*CV LOS ANGELES
CMSVEND*CV PHILADELPHIA
CMSVEND*CV HOUSTON
CMSVEND*CV SAN ANT CIBOLO TX
cmsvend cv san jose
cmsvend cv dallas
cmsvend*cv tampa
cmsvend*cv denver
cmsvend cv farmingdale amityville
cmsvend*cv orlando
cmsvend*cv everett
cmsvendcv austin
These codes also represent different locations where transactions with Canteen Vending Services may have occurred.
Unrelated Frequently Searched Charge Codes
It's also possible to come across various other charge codes that might not be related to Canteen Vending Services:
If you find these or any other unfamiliar codes on your bank statement, it's always a wise decision to contact your bank or the company associated with the charge for clarification.
Need Help with This Charge Code?
If you need help with understanding this charge code or have additional information to share, please leave a comment below. Provide links and company contact information if available.
Why Rely on ChargeOnMyCard.com?
At ChargeOnMyCard.com, we believe that financial transparency is vital. We've developed a comprehensive, user-generated database to shed light on baffling charges. Each entry is meticulously verified by live personnel, ensuring accurate, trustworthy, and up-to-date information. By fostering a community of users sharing experiences and insights, we aim to make your financial statements clearer and more understandable.
Disclaimer:
Please note that chargeonmycard.com is not associated with Canteen Vending Services or any other company mentioned in this post. This website serves as a platform for information sharing, reviews, feedback, ratings, and complaint purposes only.