Cantaloupe is a payment processor for vending machines.
What is a cantaloupe charge on my bank account?
You may encounter this when using a credit or debit card to pay for vending machine purchases. The contact information for Cantaloupe is listed below.
Cantaloupe, Inc.
Address:
100 Deerfield Lane, Suite 300, Malvern, PA 19355 USA
Canatloupe Customer Service Phone Number:  800-633-0340
Canatloupe Phone Number: 610-989-0340
Website: Cantaloupe.com
About Cantaloupe:
Cantaloupe, Inc. is a global technology company that specializes in self-service commerce. With over a million active locations worldwide, Cantaloupe processes more than a billion transactions every year, empowering businesses of all sizes to offer self-service experiences for consumers.
Cantaloupe $5 Pre-Authorization Charge Explained:
Cantaloupe authorizes pre-authorize $5 for all purchases. The actual charged amount may be lower than $5 and this will be updated in your credit card statement or your banking statement. The final purchase amount will take 24-72 Hours to appear. Also, you may see
SNACK SODA VENDING
which is from Cantaloupe as well.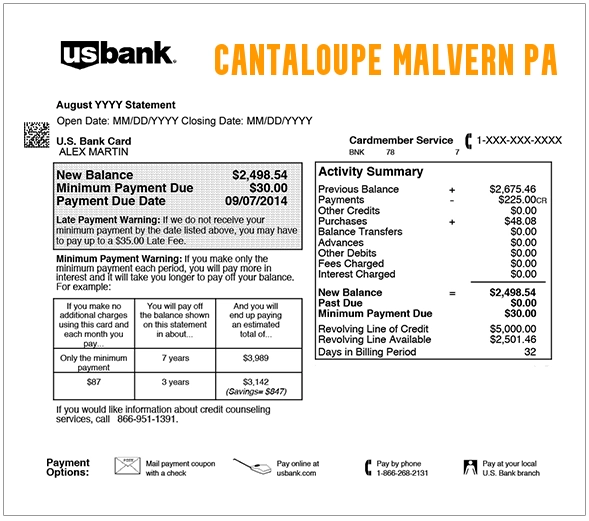 Related Charges
aplpay cantaloupe 2 malvern pa
antaloupe 2 malvern
cantaloupe malvern pa
cantaloupe x 0000 malvern pa
cantaloupe 2 0000 malvern pa
cantaloupe 4 0000 malvern pa
cantaloupe 6 0000 malvern pa
Other Credit Card Charges That You May Encounter
Why Rely on ChargeOnMyCard.com?
At ChargeOnMyCard.com, we believe that financial transparency is vital. We've developed a comprehensive, user-generated database to shed light on baffling charges. Each entry is meticulously verified by live personnel, ensuring accurate, trustworthy, and up-to-date information. By fostering a community of users sharing experiences and insights, we aim to make your financial statements clearer and more understandable
Disclaimer
ChargeOnMyCard.com is not associated with Cantaloupe. This website is for information, reviews, feedback, ratings, and complaints purposes only. Information was verified by a live person in 2023. Please report any errors to the webmaster.