Encountering unfamiliar charge codes on a credit card statement can be a cause for concern. Among the codes reported by users, "NAYAX LLC 20 HUNT VALLEY MD" has come to our attention. This article seeks to clarify this specific charge for you.
About NAYAX LLC Charge
NAYAX LLC is an industry leader in cashless payment solutions, dedicated to revolutionizing how businesses process these transactions. Recognized globally, NAYAX champions innovative technologies, enabling businesses to adopt a multitude of payment methods, from traditional credit and debit cards to more modern mobile payments.
Nayax LLC Contact Information:
Address: Nayax LLC, 11350 McCormick Road, Executive Plaza III, Suite 1001, Hunt Valley, MD 21031, USA
Phone: 410-753-0499
Nayax Website: www.nayax.com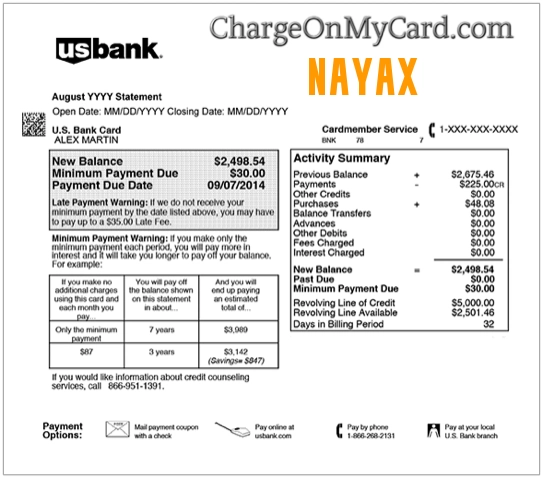 Refund or Overcharge from Nayax
In instances where an individual has made a purchase from a vending machine or engaged with other unattended services such as a kiddie ride, air-vac, or car wash, their bank statement might reflect a charge attributed to "Nayax" instead of the specific business entity. This typically indicates that the said individual has transacted with a business that employs Nayax's payment solutions.
Should there be a discrepancy where the amount charged on a bank statement or credit card bill exceeds the advertised price of the product or service, it's possible that the business operator has incorporated an additional service fee for credit card usage. Such surcharges are usually transparently indicated on the respective machines via a sticker. It's also worth noting that some machines temporarily hold the maximum transaction amount, only releasing the excess post the final selection. For inquiries or clarifications regarding charges by Nayax, individuals are encouraged to visit: https://www.nayax.com/why-do-you-see-a-nayax-charge/.
Understanding the NAYAX LLC Charge
The "NAYAX LLC 20 HUNT VALLEY MD" charge on your statement represents a transaction facilitated by this payment solutions provider. Through this article, our goal is to help users interpret this charge by offering detailed insights into its nature and potential implications.
If "NAYAX LLC 20 HUNT VALLEY MD" has appeared on your statement and left you wondering, this piece aims to shed light on its origins and significance. By comprehending the role and expanse of NAYAX LLC within the payment ecosystem, you can approach your financial statements with more confidence.
Related Charges:
nayax vending hunt valley md charge
hunt valley md charge
nayax air 2 charge
e hunt valley md
credit card hunt valley
nayax air hunt valley md
nayax vending 20 hunt valley md
hunt valley md nayax
nayax wash hunt valley md
nayax air charge
Other Charges You May Encounter When Using Vending Machines:
SNACK SODA VENDING
CANTALOUPE
VENDING
USA TECH
Why Rely on ChargeOnMyCard.com?
At ChargeOnMyCard.com, our mission is ensuring financial transparency. Our comprehensive, user-contributed database serves as a beacon for those puzzled by cryptic charges. With every entry diligently verified by our team, we guarantee accuracy and reliability. Through a community-driven model, we aspire to render financial statements as clear and understandable as possible.
Disclaimer:
ChargeOnMyCard.com is not affiliated with NAYAX LLC or any other specific charge noted on your card. Our platform remains an informational hub, offering reviews, feedback, and elucidations on a myriad of charge codes. All data, as of August 2023, undergoes verification by a live representative. Please direct any discrepancies to our webmaster.