Charge Code: JOSTENS ECOMMERCE
What is JOSTENS ECOMMERCE 800-854-7464 MN on Your Bank or Credit Card Statement
If you've noticed a charge on your bank or credit card statement with the description 'JOSTENS ECOMMERCE 800-854-7464 MN', it's likely to be a transaction from Jostens, Inc.
Who is Jostens, Inc.?
Jostens, Inc. is a well-known company that deals with yearbooks, class rings, graduation products and more. The company uses this specific charge code when processing payments from your debit or credit card.
Official Contact Information for Jostens, Inc.
Jostens Address:
3601 Minnesota Drive Minneapolis, MN 55435, USA
Josten phone number: 952-830-3300
Customer Service: 877-475-7027
Website: Jostens.com
Understanding Different Charge Codes
You might see several variations of the charge on your statement. Here are some additional charge codes that Jostens, Inc. may use:
jostens inc. 800-854-7464 mn
jostens inc 800-854-7464
jostens inc mn +1 (800) 854-7464
jostens inc. 800-854-7464
JOSTENS ECOMMERCE POS PURCH
JOSTENS ECOMMERCE POS PURCHASE
JOSTENS ECOMMERCE POS REFUND
JOSTENS ECOMMERCE PRE-AUTH
JOSTENS ECOMMERCE PENDING
JOSTENS ECOMMERCE Visa Check Card
JOSTENS ECOMMERCE Misc. Debit
JOSTENS ECOMMERCE CHKCARD
Other Frequently Searched Charges
There are many different charges that can show up on your statement. Here are a few other commonly searched charges:
If you have any further questions about this charge or need to report an issue, please comment below and provide necessary links and contact information.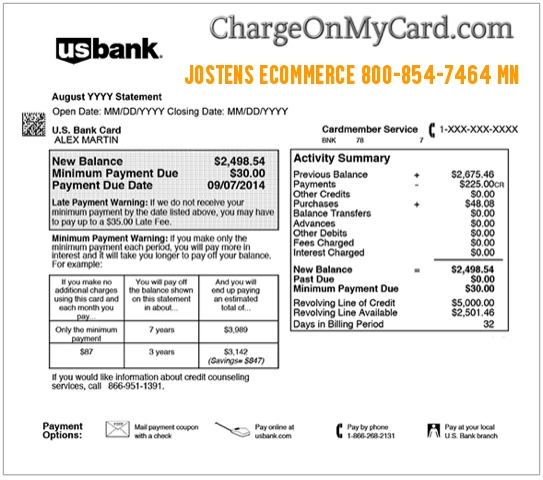 Why Rely on ChargeOnMyCard.com?
At ChargeOnMyCard.com, we believe that financial transparency is vital. We've developed a comprehensive, user-generated database to shed light on baffling charges. Each entry is meticulously verified by live personnel, ensuring accurate, trustworthy, and up-to-date information. By fostering a community of users sharing experiences and insights, we aim to make your financial statements clearer and more understandable.
Disclaimer:
ChargeOnMyCard.com is not affiliated with the company. This platform is for informational purposes, providing reviews, feedback, ratings, and user complaints. All information is confirmed by a live person as of July, 2023. Please report any inaccuracies to the webmaster.