Charge Code: 888 bestbuy mn
What does the charge code: 888 bestbuy mn or "BestBuyCom791907011900 888-BESTBUY MN" represent on my billing statement?
The code BestBuyCom791907011900 1-888-bestbuy is linked to Best Buy, a well-known retailer of electronics and appliances.
Company Information:
Best Buy Co., Inc.
7601 Penn Ave S, Richfield, MN 55423, USA
Website:
Best Buy Phone Number:
1-888-BESTBUY: 888-237-8289
Customer Service:
1-888-237-8289
The code BestBuyCom791907011900 888-BESTBUY MN or 888bestbuy represents the charge descriptor Best Buy uses when processing a transaction on your credit, debit, or bank account.
If you recognize this charge and have further information about it such as its common names or categories, please comment below with the details and any relevant links. If you believe this charge to be erroneous or fraudulent, we recommend contacting Best Buy's customer service or your financial institution directly.
Please note that this website is intended for consumer information, reviews, and complaints only and is not associated with Best Buy.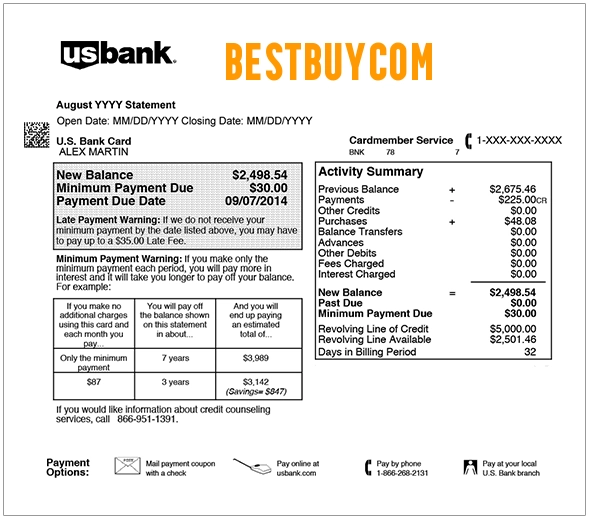 Related Charges
1 888 bestbuy
best buy richfield mn
888bestbuy mn
888 best buy mn 1 888 237 8289
Additional Information:
Frequently, consumers encounter unfamiliar charge codes on their bank statements. Some of the most searched-for charge codes in the USA include those from large retailers and digital platforms such as Amazon, GOOGLE *Services, iTunes.com/Bill, PAYPAL *INST XFER, Spotify P06-0US663 AB, and many others. Consumers also often search for charge codes from various financial institutions, which may include terms like "FSPRG", "INTERNATIONAL TRANSACTION FEE," "FOREIGN TRANSACTION FEE," or "ATM WITHDRAWAL." It's essential to regularly review your financial statements and investigate unfamiliar charges to maintain the security of your personal finances. If you recognize an unauthorized or unexpected charge, you should contact your bank or the merchant as soon as possible.
Why Rely on ChargeOnMyCard.com?
At ChargeOnMyCard.com, we believe that financial transparency is vital. We've developed a comprehensive, user-generated database to shed light on baffling charges. Each entry is meticulously verified by live personnel, ensuring accurate, trustworthy, and up-to-date information. By fostering a community of users sharing experiences and insights, we aim to make your financial statements clearer and more understandable.
Disclaimer:
Note: Chargeonmycard.net is not associated with the companies mentioned above. This website is for consumer information, reviews, and complaints only. It is always recommended to contact the respective company directly for precise and personalized assistance.