FOREIGN ATM/POS ISA FEE – INTERNATIONAL SVC CHARGE 72000008 or international pos fee a charge code that typically appears on your bank or credit card statement when you have conducted a transaction using an ATM or a Point of Sale (POS) system in a foreign country.
FOREIGN ATM/POS ISA FEE – INTERNATIONAL SVC CHARGE 72000008 – What is this Charge on my Bill Statement?
When you use your debit or credit card at an ATM or POS system outside of your home country, your financial institution might levy an additional fee known as the International Service Assessment (ISA) fee or International Service Charge. This fee covers the costs associated with converting currencies, processing the international transaction, and maintaining access to the global payment network.
Charge Statement Code: FOREIGN ATM/POS ISA FEE – INTERNATIONAL SVC CHARGE 72000008 or foreign atm or pos fee
The exact amount of this fee can vary based on your financial institution and the specifics of your account. If you're unsure about these charges or need further details, it's best to review your account agreement or contact your bank's customer service department.
Besides this, there might be other charges that could appear on your banking and credit card statements. These could include standard transaction fees, maintenance fees, overdraft charges, late payment fees, or cash advance fees. Some of these fees can be avoided by maintaining a minimum balance, making payments on time, and avoiding cash advances or overdrafts. Always familiarize yourself with the terms and conditions of your account to avoid unexpected fees and charges.
Do you have information related to this charge code? Please share in the comments below, including links and contact details of the company.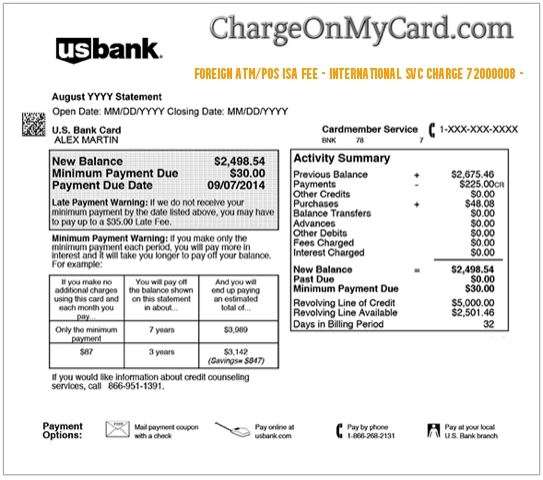 Why Rely on ChargeOnMyCard.com?
At ChargeOnMyCard.com, we believe that financial transparency is vital. We've developed a comprehensive, user-generated database to shed light on baffling charges. Each entry is meticulously verified by live personnel, ensuring accurate, trustworthy, and up-to-date information. By fostering a community of users sharing experiences and insights, we aim to make your financial statements clearer and more understandable. To let us know about other unknown or fraud charges you can let us know on our report a charge page.
Disclaimer:
Please note, Chargeonmycard.com is not associated with the FOREIGN ATM/POS ISA FEE – INTERNATIONAL SVC CHARGE. This website is a platform for consumer information, reviews, and complaints only.