Netflix Los Gatos Charge code typically appears when Netflix bills your debit or credit card for its monthly subscription service.
What is Netflix Los Gatos Charge on My Bank Statement?
If you notice the term NETFLIX.COM NETFLIX.COM CA or netflix.com los gatos ca charge on your bank or credit card statement, it's related to charges from Netflix, a popular streaming service.
Understanding the Netflix Los Gatos Charge:
Here is the contact information for Netflix:
Netflix, Inc.
100 Winchester Circle Los Gatos, CA 95032 USA
Phone Number: 1-866-579-7172
Customer Service: 1-866-579-7172
Website: Netflix
If you have any further details or insights regarding this charge, please share them in the comments below. Remember to include any useful links or company contact information.
Related Charge Codes From Netflix
netflix.com los gatos ca charge
netflix com los gatos caus charge
netflix com los gatos charge
netflix com 8665797172
netflix.com ca
netflixcom
Other Frequently Searched Charge Codes
Aside from NETFLIX.COM NETFLIX.COM CA, other frequently searched charge codes include: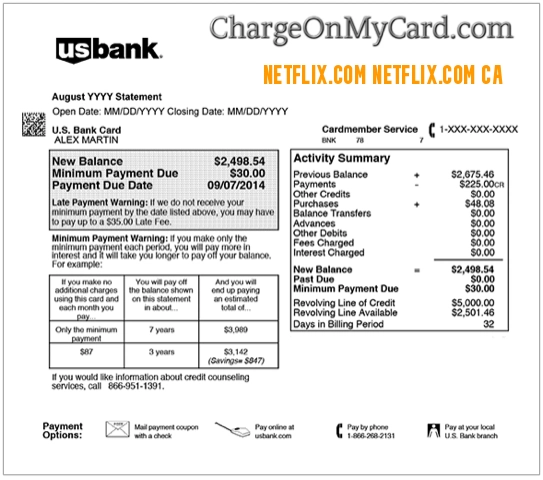 Why Rely on ChargeOnMyCard.com?
At ChargeOnMyCard.com, we believe that financial transparency is vital. We've developed a comprehensive, user-generated database to shed light on baffling charges. Each entry is meticulously verified by live personnel, ensuring accurate, trustworthy, and up-to-date information. By fostering a community of users sharing experiences and insights, we aim to make your financial statements clearer and more understandable. To let us know about other charges you can report them here.
Disclaimer:
Please note that this website is not associated with Netflix or any other company mentioned. The content here is meant to provide information, reviews, and complaints for reference and assistance purposes. Always consult your bank or the respective company for official information regarding any charges on your statement.
what is netflix los gatos charge
This charge is from Netflix video streaming service. Netflix is located in Los Gatos, California.