The Amazon Digital Services May Appear on Your Bank Statement
What is Amazon Digital Services Charge on Credit Card, Debit Card, and Banking Statements?
The 'Amazon Digital Services' charge that appears on your banking or credit card statement is typically associated with a purchase from Amazon's collection of digital content which includes books, movies, music, games, and software.
About Amazon Digital Services
Amazon Digital Services is a part of Amazon.com, Inc., a multinational technology company focusing on e-commerce, cloud computing, digital streaming, and artificial intelligence.
Contact Information
Amazon.com, Inc.
410 Terry Avenue North
Seattle, WA 98109 USA
Customer Support: 1-206-266-1000 or 1-800-201-7575
Website: Amazon
Frequently Searched Charge Codes Related to Amazon
1. AMAZON MKTPLACE
2. PRIME VIDEO 888-802-3080 WA
3. Amazon.com
4. Amazon Prime Membership
These codes denote various types of transactions made through Amazon. If you encounter any unfamiliar codes on your statement, we recommend contacting Amazon or your bank for clarification.
Unrelated Frequently Searched Charge Codes
1. PAYPAL INST XFER
2. EBTWM
3. WALMART.COM 8009666546 – 800-966-6546, AR
4. HX *INSURANCE
5. 702 SW 8TH Charge on Credit Card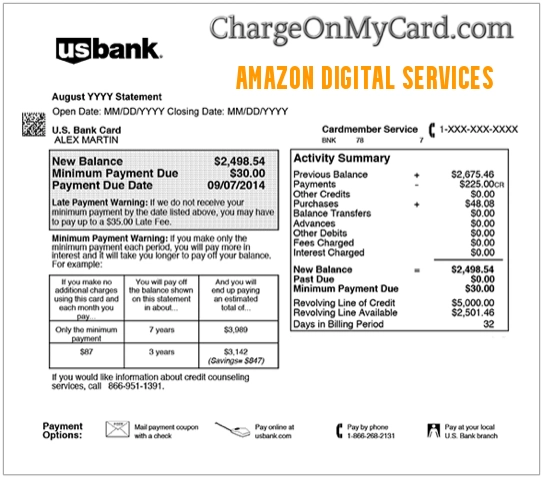 Why Rely on ChargeOnMyCard.com?
At ChargeOnMyCard.com, we believe that financial transparency is vital. We've developed a comprehensive, user-generated database to shed light on baffling charges. Each entry is meticulously verified by live personnel, ensuring accurate, trustworthy, and up-to-date information. By fostering a community of users sharing experiences and insights, we aim to make your financial statements clearer and more understandable.
Disclaimer:
ChargeOnMyCard.com is not associated with Amazon Digital Services. This website is intended to provide information, reviews, feedback, ratings, and complaints for informational purposes only. Information is verified as of  2023.