Charge Code: AMERICAN AI
What is American A Charge on my Credit Card, Debit Card, and Banking Statements?
The code AMERICAN AI is utilized by American Airlines for their billing processes. When you see this code on your credit card or bank statement, it generally indicates a transaction with American Airlines. This could be for airline tickets, in-flight purchases, or other related services.
If you have questions about this charge or need customer service assistance, you can contact American Airlines directly using the details below:
American Airlines Official Address:
4000 E. Sky Harbor Blvd., Phoenix, AZ 85034 USA
American Phone Number: 800-433-7300
American Airlines Customer Service: 1-800-433-7300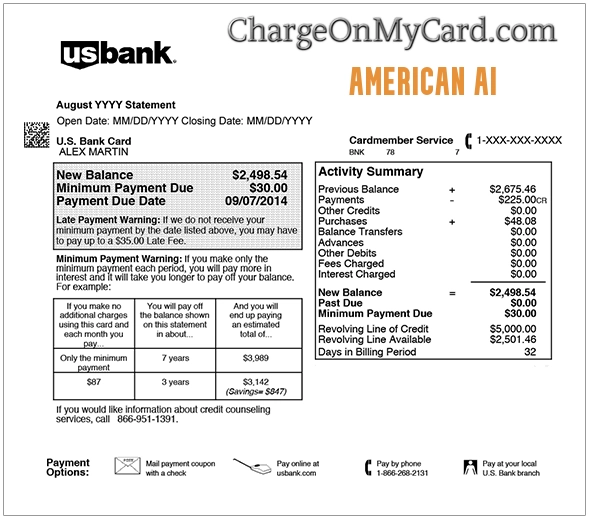 The following charge codes are also commonly used by American Airlines:
american seattle wa charge
americanai 402 935 2244
ai charge
AMERICAN AI POS PUR
AMERICAN AI POS PURCH
AMERICAN AI POS PURCHASE
AMERICAN AI POS REFUND
AMERICAN AI PRE-AUTH
AMERICAN AI PENDING
AMERICAN AI Visa Check Card
AMERICAN AI Misc. Debit
AMERICAN AI CHKCARD
Other Frequently Searched Charge Codes
People also frequently search for the following charge codes:
Why Rely on ChargeOnMyCard.com?
At ChargeOnMyCard.com, we believe that financial transparency is vital. We've developed a comprehensive, user-generated database to shed light on baffling charges. Each entry is meticulously verified by live personnel, ensuring accurate, trustworthy, and up-to-date information. By fostering a community of users sharing experiences and insights, we aim to make your financial statements clearer and more understandable.
Disclaimer: The information provided here is based on what is publicly available at the time of writing and is subject to change. Always verify all charges on your accounts and promptly report any unrecognized transactions to your bank or credit card provider. We are not associated with AmericanAI.